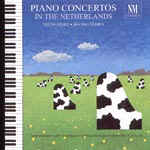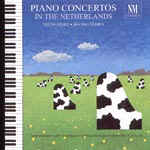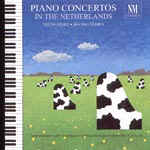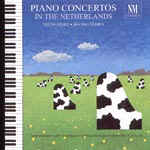 PIANO CONCERTO BY TRISTAN KEURIS
On the CD above Piano concertos in the Netherlands René Eckhardt plays the Piano Concerto by Tristan Keuris (1980) with the Radio Filharmonisch Orkest conducted by Lucas Vis. The recording was made in 1995 in Tivoli/ Vredenburg during a concert.
"The performance kept the audience during twenty minutes in a breath taking excitement and admiration."
Ralph Degens in the national newspaper Trouw (31-1-1995).
---
Ambassador of Dutch music
In 1978 pianist René Eckhardt gave his first performances outside the Netherlands. The invitations came from Belgia and France. Nowadays he is known in more than thirty countries. He gave concerts in many European countries, the United States, Mexico, Australia, South Korea, Indonesia and Japan. Eckhardt never leaves the Netherlands without packing at least a few scores of Dutch composers.
Several Dutch composers such as Theo Loevendie, Otto Ketting, Ton de Leeuw, Roel van Oosten, Robin de Raaff and Jan Vriend dedicated compositions to René Eckhardt or to chamber ensembles in which he plays. As a soloist or in various chamber ensembles he has recorded over twenty CD's.
The CD TON de Leeuw: Chamber Music with a piano solo by René Eckhardt was awarded an Edison Classic 1993.
His CD Tribute 2000 is amongst others a tribute to several Dutch composers.